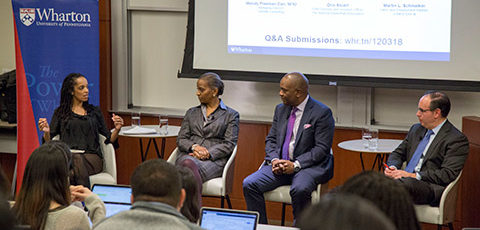 Leading Diversity@Wharton Lecture Series
Providing insights regarding leading diversity in organizations
Sharing Insight on Navigating Diverse Organizational Settings
People in the workplace are constantly interacting with peers, managers, and customers with very different backgrounds and experiences. When harnessed effectively, these differences can be the catalyst for creative breakthroughs and the pathway to team and organizational learning and effectiveness; but when misunderstood, these differences can challenge employees' values, performance, workplace relationships, and team effectiveness.
This series, an extension of Professor Stephanie Creary's  Leading Diversity in Organizations course, is designed to help students navigate diverse settings more effectively and improve their ability to work within and lead diverse teams and global organizations.
There are no lectures currently scheduled. Check back soon for updates.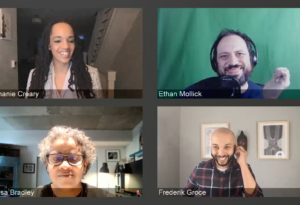 Overcoming the Racial and Gender Gap in Entrepreneurial Leadership and Funding
Featuring Frederik Groce, Principal at Storm Ventures and co-founder at BLCK VC; Melissa Bradley, Managing Partner, 1863 Venture and Ethan Mollick, Ralph J. Roberts Distinguished Faculty Scholar; Associate Professor of Management; Academic Director, Wharton Interactive
February 2021
In this session, Professor Stephanie Creary and panelists discuss DEI in venture capital, the effects of the pandemic on DEI in entrepreneurship funding.
Listen to Melissa Bradley's interview on Wharton Business Daily. Watch a recording of the event on the Wharton YouTube page.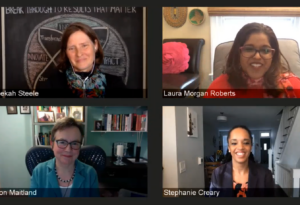 New Books on Race and Diversity in the Workplace
Featuring Laura Morgan Roberts, editor, Race, Work & Leadership: New Perspectives on the Black Experience
Alison Maitland and Rebekah Steele, co-authors, INdivisible
December 2020.
Now, more than ever, companies are recognizing the importance of diversity, equity, and inclusion. This event will provide members of the Wharton and Penn communities with an opportunity to engage in a discussion of DEI best practices and tangible ways to affect real organizational and cultural change.
Listen to Dr. Robert's interview on Wharton Business Daily.  Watch a recording of the event on the Wharton YouTube page.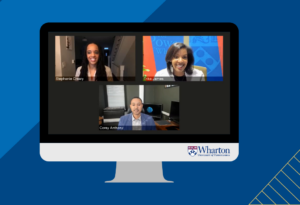 Corey Anthony, Vice President – Chief Diversity and Development Officer, AT&T Services, Inc, and Erika James, Dean, The Wharton School.
November 2020.
Inclusive Leadership in a Time of Covid-19. In today's tumultuous times, leaders must embrace the opportunities, challenges, and complexities of practicing inclusive leadership. Our panelists share insights into how leaders are helping their organizations navigate the COVID-19 crisis and efforts to end systemic racism around the world
Read event coverage from Knowledge@Wharton. Listed to Mr. Anthony's interview on Wharton Business Daily.  Watch a recording of the event on the Wharton YouTube page.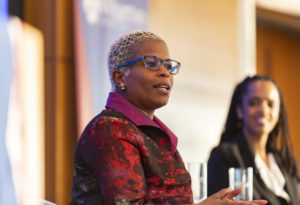 Carolynn Johnson, CEO, DiversityInc. Media, LLC
February 2020.
Professor Creary moderates a conversation with Carolynn Johnson, CEO, DiversityInc. Media, LLC, on the topic of diversity leaders who help their organizations succeed.
Watch Ms. Johnson's interview from Wharton Business Daily or listen to the podcast. Read about the conversation on our Wharton Stories page. View the Leading Diversity@Wharton conversation on the Wharton YouTube page.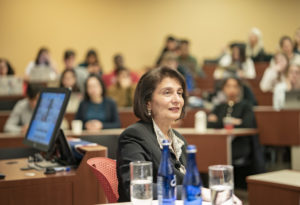 Sodexo's Story: The Challenges and Opportunities of Managing Diversity in the Global Context
December 2019. 
Professor Creary moderates a conversation with Dr. Rohini Anand, Global SVP Corporate Responsibility and Global Chief Diversity Officer of Sodexo. A French food services company Sodexo earned a place on Diversity Inc Top 50 Hall of Fame for their exceptional human capital management, corporate values and culture.
Watch a video of the lecture on the Wharton YouTube page.
What can corporate boards really do about diversity?
November 2019. 
Professor Creary moderates a conversation about the importance of diversity within a company and in the boardroom, as well as strategies to improve corporate diversity efforts. Panelists included: Jeff Smith, Chair, Papa John's International Inc.; and Janet Foutty, Chair of the Board, Deloitte.
Watch the full video here, and read recap articles of the event from The Daily Pennsylvanian and Wharton Magazine.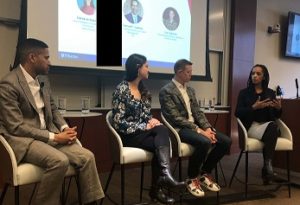 Fostering Belonging at Work: Insights from the Experts
March 2019. 
Professor Creary discusses the complexities and opportunities of workplace inclusion with a panel of diversity experts. Panelists included: Rebekah Bastian, VP of Culture and Community, Zillow; Samuel Lalanne, Senior VP of Global Diversity and Talent Management, Citi; and Eric Solomon, Chief Marketing Officer in Residence, Blackbird Global.
Read Professor Creary's LinkedIn article on the importance of keeping the diversity conversation emotional. Watch the lecture on the Wharton YouTube page.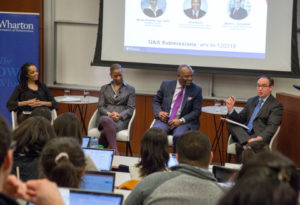 Building Inclusive Workplaces in an Era of Discord: Insights from Diversity Leaders
December 2018.
Professor Creary welcomed a panel of experts to discuss the policies and practices that diversity experts have developed to help leaders and employees navigate  the opportunities, challenges, and complexities of diversity, inclusion, and leadership at work. Panelists included: Wendy Freeman Carr, W'92, Managing Director, Deloitte Consulting; Oris Stuart, Chief Diversity and Inclusion Office, The National Basketball Association (NBA); and Martin L. Schmelkin, JD, Labor and Employment Partner, Jones Day.
Read our recap article posted on the Wharton Stories homepage by clicking here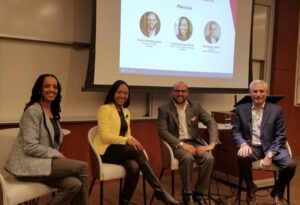 Stories from Wharton Alumni
November 2018.
Professor Stephanie Creary hosted a Wharton alumni panel, discussion how their experiences with diversity and inclusion shaped their careers. Panelists included: Deserrie Perez, WG'10, Head of North America Marketing, LinkedIn; Darren Kimball, W'91, Principal and CEO, GetFive; and Carl Rosen, WG'77, Principal, Shelter Rock International.