Howard Marks Investor Series
Discussions between investment thought leaders and host Howard Marks, W'67
Sharing Practical Perspectives on Investing
The Howard Marks Investor Series at The Wharton School brings high-profile investors to campus to share real, practical perspectives. Each event features a fireside chat style conversation between Howard Marks, W'67,and an investment community thought leader, often with a special focus on value investing.
The series is managed by Professor Christopher Geczy, Adjunct Professor of Finance, and Academic Director of the Wharton Wealth Management Initiative and the Jacobs Levy Equity Management Center for Quantitative Financial Research.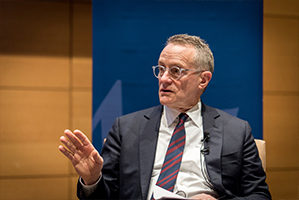 Howard Marks, Co-Chairman, Oaktree Capital
At the inaugural lecture of the Howard Marks Investor Series, Howard himself brought his world-class investment perspective to campus in an intriguing dialogue with students. Spring 2014. 
"Success in investing is not a function of what you buy.  It's a function of what you pay."
Read article (Wharton Blog Network) and watch the full video.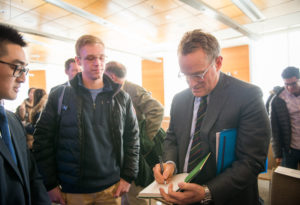 Howard Marks, W'67, Co-Chairman, Oaktree Capital
Spring 2018.
At this interactive event, Mr. Marks himself shared his insights on portfolio management, value investing, and other current topics.
"We strive to develop world citizens – global leaders with an understanding of how they and their organizations can make a positive difference for investors, customers, employees, and communities regardless of national setting, but with a deep appreciation for the distinctive cultures at play."
HOWARD MARKS