Race & The Selling of America
Race & The Selling of America explored how Black culture has made its mark on brands and businesses around the world over the years. Panelists included Black spokespersons who have used their roles in entertainment, sports, music, and film to influence consumers — and discussed how brands can work with Black culture in a way that benefits companies and the Black community at large.
See media coverage on the launch of the Beyond Business series. Read the Daily Pennsylvanian's article about the event. Watch a recap of the lecture through the link below.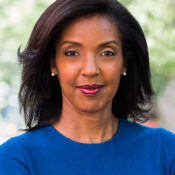 Erika H. James, Dean, The Wharton School
Dean James began her tenure at Wharton July 1, 2020 and in doing so became the first-ever woman and African American to lead the country's oldest collegiate school of business. Prior to Wharton, she was dean of Goizueta Business School at Emory University. Throughout Dean James' award-winning career as a researcher and instructor she has investigated issues of diversity, leadership and crisis management. She is the author of numerous journal articles, co-author of the book, "Leading Under Pressure: From Surviving to Thriving Before, During, and After a Crisis" and was named one of the "Top 10 Women of Power in Education" by Black Enterprise magazine.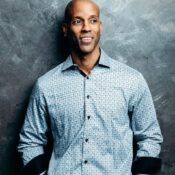 Americus Reed, II, The Whitney M. Young Jr., Professor of Marketing, The Wharton School
Americus Reed, II is the Whitney M. Young Jr., Professor of Marketing at the Wharton School, University of Pennsylvania, where he has served on faculty since 2000. An avid fitness enthusiast, part time drummer and tireless educator, Americus' primary research and consulting areas are in brand equity and Identity Loyalty – the study of creating and fostering "brand communities" that transcend the utilitarian aspects of products to actualize iconic levels of symbolic identity and self-expression; connect to deep levels of emotional and social affiliation, and cultivate lifelong relationships with intermediate customers and end consumers.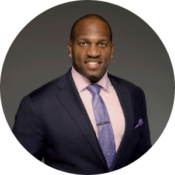 Kirk Morrison, Football analyst and former NFL linebacker
Kirk Morrison is a football analyst and former NFL linebacker. One of the hardest workers in broadcasting, Kirk currently serves at the pre-and post-game radio host of the Los Angeles Rams on ESPNLA, is part of ESPN's College Football coverage as a television color analyst and a regular on Sirius NFL Radio. He is also a contributor to The Athletic, Bay Area and a regular guest on sports talk radio shows across the country.
Kirk played for the Oakland Raiders for the first five years of his career, making his mark defensively immediately after being drafted in the third round of the 2005 NFL Draft. Kirk registered 116 tackles and recovered two fumbles during his rookie campaign. Kirk was traded to the Jacksonville Jaguars in 2010 and played there for one season. He signed with the Buffalo Bills as a free agent in 2011. After his retirement from the National Football League, Kirk transitioned to helping other NFL players experience the same post-NFL success he has enjoyed through his leadership role as a captain for the NFL Players Association Trust.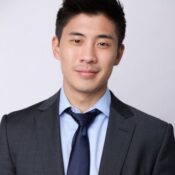 Phillip Sun, President/Managing Partner and Co-Founder, M88
Phillip Sun is President/Managing Partner and Co-Founder of M88, a full-service representation firm amplifying the voices of artists and creators from the global new majority, which launched in August 2020 in partnership with MACRO Founder & CEO Charles D. King. Formerly, Sun was a Partner at WME. 
He represents some of the most sought-after talent at the intersection of entertainment and culture, including Michael B. Jordan, Idris Elba, Riz Ahmed, Donald Glover, Gemma Chan, Naomi Scott and many more. 
He has graced THR's Next Generation list, Empowerment list, and A100 Most Impactful Asians list. He was one of the first Asian American agents to be promoted to partner at WME and has used his platform to push for change as co-founder of Empower, WME's company-wide program that ensures that employees at all levels feel supported rising through the agency — and externally as a board member of USC Annenberg's Inclusion Initiative
He resides in LA with his wife and son. 
An expansion of Wharton's Tarnopol Dean's Lecture series, Beyond Business is an ongoing conversation that tackles the most complex and pressing issues impacting individuals and organizations across the world.