Race & Corporate Power
Race & Corporate Power explored the financial, operational, and strategic commitments firms have made to combat the systematic challenges facing the Black community. Whether through philanthropic giving to elevate Black issues, intentional diversification of corporate boards, or doubling down on investments in diversity, equity, and inclusion efforts, corporations are flexing their muscle to support Black Americans. But will it be enough to move the needle?
See media coverage on the launch of the Beyond Business series. Read articles from Knowledge@Wharton and HR Drive about the event. Watch a recap of the lecture through the link below.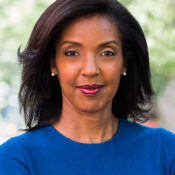 Erika H. James, Dean, The Wharton School
Dean James began her tenure at Wharton July 1, 2020 and in doing so became the first-ever woman and African American to lead the country's oldest collegiate school of business. Prior to Wharton, she was dean of Goizueta Business School at Emory University. Throughout Dean James' award-winning career as a researcher and instructor she has investigated issues of diversity, leadership and crisis management. She is the author of numerous journal articles, co-author of the book, "Leading Under Pressure: From Surviving to Thriving Before, During, and After a Crisis" and was named one of the "Top 10 Women of Power in Education" by Black Enterprise magazine.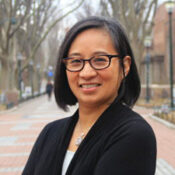 Katherina Rosqueta, WG'01, Founding Executive Director, Center for High Impact Philanthropy
Katherina 'Kat'  M. Rosqueta is the founding executive director of the Center for High Impact Philanthropy. Founded as a collaboration between the University of Pennsylvania's School of Social Policy & Practice and alumni of the Wharton School, the Center for High Impact Philanthropy is the premier source of knowledge and education to help donors around the world do more good.
She has held numerous civic leadership positions, currently serving as vice-chair of the board of Candid (recent merger of Foundation Center and Guidestar), the world's largest source of information on nonprofits and foundations.  In addition, she serves on the national board of Greenlight Fund, a venture philanthropy fund dedicated to addressing urgent social needs cities around the United States,  and co-chairs Greenlight Fund Philadelphia.
Kat received her B.A. from Yale University and an M.B.A. from The Wharton School of the University of Pennsylvania. She was the 2012 recipient of the Wharton Women in Business Kathleen McDonald Distinguished Alumna Award and a 2011 recipient of the Brava! Women Business Achievement Award. She and her husband Michael Idinopulos live in Philadelphia with their three children.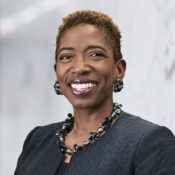 Carla Harris, Vice Chairman and Managing Director, Morgan Stanley
Carla Harris is Vice Chairman and Managing Director at Morgan Stanley, where she serves as a senior client adviser, and is the founder of the Multicultural Client Strategy Group. Previously, she headed the Emerging Manager Platform at Morgan Stanley, the equity capital markets effort for the consumer and retail industries. Ms. Harris has extensive industry experience in the technology, media, retail, telecommunications, transportation, industrial, and health care sectors. Ms. Harris was appointed by President Obama to chair the National Women's Business Council. She is the author of the books Expect to Win and Strategize to Win. She is an accomplished singer with 3 albums, 5 sold out concerts at Carnegie Hall and a sold out concert at the Apollo Theatre under her belt. Ms. Harris holds an AB in economics from Harvard University and an MBA from Harvard Business School.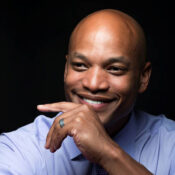 Wes Moore, CEO, Robin Hood
Wes Moore is the Chief Executive Officer of Robin Hood, one of the largest anti-poverty forces in the nation. He is a bestselling author, a combat veteran, and a social entrepreneur.
Wes' first book, "The Other Wes Moore," a perennial New York Times bestseller, captured the nation's attention on the fine line between success and failure in our communities and in ourselves. That story has been optioned by executive producer Oprah Winfrey and HBO to be made into a movie. He is also the author of the bestselling books "The Work," "Discovering Wes Moore," "This Way Home" and the recently released, "Five Days."
Wes grew up in Baltimore and the Bronx, where he was raised by a single mom. Despite childhood challenges, he graduated Phi Theta Kappa from Valley Forge Military College in 1998 and Phi Beta Kappa from Johns Hopkins University in 2001. He earned an MLitt in International Relations from Oxford University as a Rhodes Scholar in 2004. Wes then served as a captain and paratrooper with the U.S. Army's 82nd Airborne Division, including a combat deployment to Afghanistan. He later served as a White House Fellow to Secretary of State Condoleezza Rice.
Before becoming CEO at Robin Hood, Wes was the founder and CEO at BridgeEdU, an education platform based in Baltimore addressing the college completion and job placement crisis by reinventing freshman year for underserved students. BridgeEdU was acquired by Edquity, a Brooklyn-based student financial success and emergency aid firm, in June 2019.
Wes has also worked in finance as an investment banker with Deutsche Bank in London and with Citigroup in New York.

Wes lives in Baltimore with his wife and two children.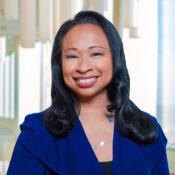 Dalila Wilson-Scott, EVP and Chief Diversity Officer, Comcast
Dalila Wilson-Scott serves as Executive Vice President and Chief Diversity Officer of Comcast Corporation and as President of the Comcast NBCUniversal Foundation. Dalila oversees all Diversity, Equity and Inclusion initiatives for the corporation and spearheads the charitable giving and philanthropic strategy, including Comcast NBCUniversal's $100 million commitment to advance social justice and equality. Prior to joining Comcast in 2016, Dalila spent over 16 years at JPMorgan Chase & Co. where she served as Head of Global Philanthropy and President of the JPMorgan Chase Foundation. In addition to serving on the boards of Welcome America, Inc. and Box.org, Dalila is a member of the Executive Leadership Council.
An expansion of Wharton's Tarnopol Dean's Lecture series, Beyond Business is an ongoing conversation that tackles the most complex and pressing issues impacting individuals and organizations across the world.