Using Data to Protect and Serve:
How Analytics Can Drive Social Good
Rapid advancements in artificial intelligence (AI) and machine learning have radically altered our approach to problem-solving, particularly within the realm of social impact. When faced with especially challenging and often sensitive societal issues–such as police reform, human trafficking, and media transparency–analytics can offer surprising ways to increase accountability and drive social good. How can data impact our understanding of social problems and lead us to effective solutions?
Register for the discussion by clicking the link below.
Wednesday, December 14, 2022 | 11:30am-12:30 pm EST
LinkedIn Live
Watch with Closed Captioning HERE.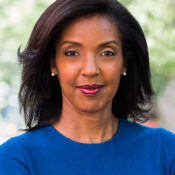 Erika H. James, Dean, The Wharton School
Dean James became the dean of the Wharton School on July 1, 2020. Trained as an organizational psychologist, Dean James is a leading expert on crisis leadership, workplace diversity and management strategy.
Prior to her appointment at Wharton, Dean James was the John H. Harland Dean at Emory University's Goizueta Business School from 2014 to 2020.
An award-winning educator, accomplished consultant and researcher, she is the first woman and first person of color to be appointed dean in Wharton's 141-year history. As such she has paved the way for women in leadership both in education and corporate America. Dean James has been instrumental in developing groundbreaking executive education programs, including the Women's Leadership program at the University of Virginia's Darden School.
Dean James serves on the boards of Morgan Stanley, SurveyMonkey and The Philadelphia Orchestra and Kimmel Center, Inc. She is the co-author of the forthcoming book The Prepared Leader: Emerge from Any Crisis More Resilient Than Before (Wharton School Press; September 20, 2022) with Lynn Perry Wooten, President of Simmons University.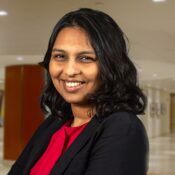 Hamsa Bastani, Assistant Professor of Operations, Information and Decisions, and Assistant Professor of Statistics and Data Science, The Wharton School
Hamsa Bastani is an Assistant Professor of Operations, Information and Decisions, as well as Statistics and Data Science at the Wharton School, University of Pennsylvania. Her research focuses on developing novel machine learning algorithms for data-driven decision-making, with applications to healthcare operations, social good, and revenue management. Her work has received several recognitions, including the Wagner Prize for Excellence in Practice (2021), the Pierskalla Award for the best paper in healthcare (2016, 2019, 2021), the Behavioral OM Best Paper Award (2021), as well as first place in the George Nicholson and MSOM student paper competitions (2016).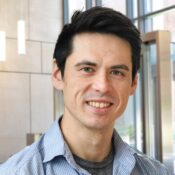 Dean Knox, Assistant Professor of Operations, Information and Decisions, and Assistant Professor of Statistics and Data Science, The Wharton School
Dean Knox is an Assistant Professor of Operations, Information and Decisions and an Assistant Professor of Statistics and Data Science at the Wharton School.

His research interests include policing, speech analysis, ethnic politics, and political communication. He joined Wharton in 2022, where he is a faculty fellow at Analytics at Wharton and an affiliate of Penn's Quattrone Center for the Fair Administration of Justice. Knox is co-founder of Research on Policing Reform and Accountability, a team of social scientists studying the feasibility and efficacy of policing reform.

He has won several awards including the Young Explorer Award by the Science and NOMIS Foundation and the Gosnell Prize for Excellence in Political Methodology by the Society for Political Methodology.

His fellowships include the Andrew Carnegie Fellowship, and graduate research fellowships with the National Science Foundation and MIT. He received his PhD at MIT in 2017.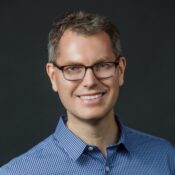 Duncan Watts, Stevens University Professor, Professor of Operations, Information and Decisions, Professor of Communication, Professor of Computer and Information Science, The Wharton School
Duncan Watts is the Stevens University Professor and 23rd Penn Integrates Knowledge Professor at the University of Pennsylvania. In addition to his appointment at Wharton and as the inaugural Rowan Fellow, he holds faculty appointments in the Department of Computer and Information Science in the School of Engineering and Applied Science, and the Annenberg School of Communication, as well as a secondary appointment in the Department of Sociology in the School of Arts & Sciences.

Before coming to Penn, Watts was a principal researcher and partner at Microsoft and a founding member of the MSR-NYC lab. He was also an AD White Professor at Large at Cornell University. Prior to joining MSR in 2012, he was a professor of Sociology at Columbia University, and then a principal research scientist at Yahoo! Research, where he directed the Human Social Dynamics group.

His research on social networks and collective dynamics has appeared in a wide range of journals, from Nature, Science, and Physical Review Letters to the American Journal of Sociology and Harvard Business Review, and has been recognized by the 2009 German Physical Society Young Scientist Award for Socio and Econophysics, the 2013 Lagrange-CRT Foundation Prize for Complexity Science, and the 2014 Everett M. Rogers Award. He was named an inaugural fellow of the Network Science Society in 2018, a 2020 Carnegie Fellow, and a 2021 AAAS Fellow.

Watts is the author of three books: Six Degrees: The Science of a Connected Age (W.W. Norton 2003), Small Worlds: The Dynamics of Networks between Order and Randomness (Princeton University Press 1999), and Everything is Obvious: Once You Know The Answer (Crown Business 2011).

He holds a B.Sc. in Physics from the Australian Defence Force Academy, from which he also received his officer's commission in the Royal Australian Navy, and a Ph.D. in Theoretical and Applied Mechanics from Cornell University.